Cape Cod Wedding Musicians can add the perfect touch to your Cape Cod Wedding ceremony, cocktail hour or reception.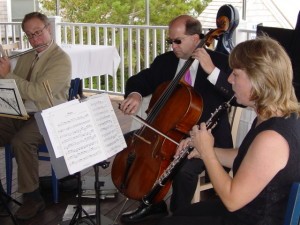 Cape Cod Harpist.com
– Katie Lynch Koglin plays the harp from Woods Hole to Provincetown to Boston.
ph: 508-428-5407
Anne Paus – Cape Cod Harpist for Elegant Cape Cod Weddings. (Brewster)
ph: 508-896-6385
Bruce Abbott – A multi-talented Cape Cod Musician who offers a variety of instruments.
ph: 508-896-8189
Cape Cod Wedding Flute – Brenda J. Rogers
ph: 508-240-6593
Cobach Musik – Cape Cod Classical Musicians Claude and Donna Marie Cobert.
ph: 508-992-4739
Cape Cod Music.com – Cape Cod Music is the home on the 'net for local music.
PanNeubean Steel – Cape Cod Steel Drum Music for your Cape Cod Wedding or cocktail hour.
Jefferey Clayton
ph: 508-478-2330
Atlantic Strings Music – 617-849-2299 – Strings for your Elegant Wedding on Cape Cod